If you're reading this article then chances are either you're thinking about buying a portable gym like INNSTAR for your home workout need or in a search of resistance bands to add to your routine and want to check genuine innstar reviews before making a buying decision. Don't worry you're at the right place. I'm Claudia, a CrossFit trainer, and a fitness influencer, and after working with 200+ clients and using almost every variety of fitness equipment in the market. I can help you make  decision to buy affordable innstar resistance bands.
For this article, I have shortlisted and done an in-depth review of two of the most popular fitness equipment in the market by the innstar; "INNSTAR PORTABLE GYM 3.0" and "INNSTAR RESISTANCE BANDS SET".
In this review, you'll find a complete analysis of both the products along with the customer reviews. I have also answered some of the most asked questions regarding whether or if Innstar worth buying in 2021
As mentioned earlier I have shortlisted two best sellers from the innstar for this review. Apart from the in-depth review, you'll find individual ratings (out of 5) I have given to these products based upon four factors which are:
Functionality and Features
Durability
Price
Portability
So let's start…
INNSTAR PORTABLE GYM 3.0 REVIEW
If you're looking for a complete home workout solution look no further Innstar Portable Gym 3.0 is specially designed to meet your workout requirements. INNSTAR offers four different levels of resistance ranging from 80LBS to 200LBS and each resistance level has a different colors assigned which are as follow:
INNSTAR Portable Gym 3.0 Specs
| | | |
| --- | --- | --- |
| COLOR | SUITED FOR | RESISTANCE LEVEL |
| CAMO RED | Beginners & Senior Citizen | 80LBS |
| CAMO BLUE | Women & Fitbits | 105LBS |
| CAMO GREEN | Men & Athletes | 150LBS |
| CAMO BROW | Professional Body Builders | 200LBS |
In this article INNSTAR PORTABLE GYM 3.0 review, I focused specifically on camo blue (105LBS). The portable gym kit 3.0 includes a detachable 96cm bench press bar, 4 stretchable resistance bands, 1 portable resistance belt, 2 handles, 2 door anchors, and 2 ankle straps.
Each resistance band has a resistance level of 17.5lb each and can be used collectively to increase the resistance for your training. Apart from the resistance bands, the portable resistance belt provides three resistance levels: 35 – 70 – 105 Lbs. The best part is the whole kit weighs less than 4kg and comes with a carry bag which makes it really handy and portable.
I tried Innstar portable gym for one week and to my surprise, I'm blown away by its sturdiness and flexibility. I was able to perform my daily cross-fit exercises including core crunches, lunges, hamstrings, and even glute bridges with ease. Moreover I loved the way it allowded me to change the resistance levels during the reps which is a tideous task with many other brands in the market.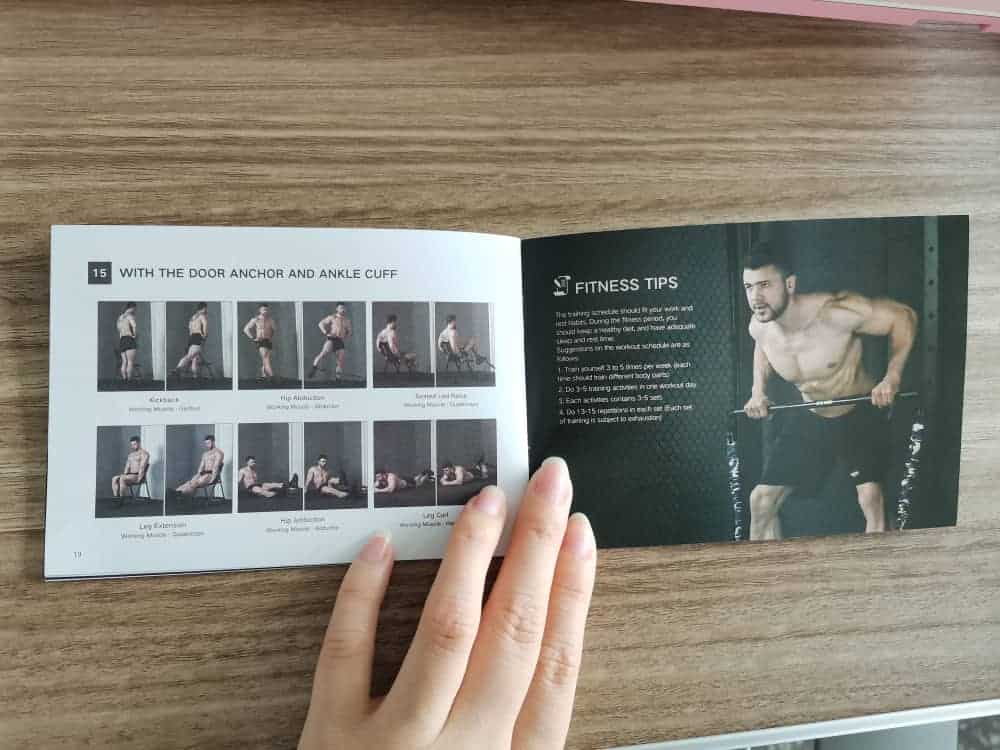 If you're just starting out you'll find the workout guide which is included witht the kit extremely useful. It has all the instructions of use and the list of workouts you can perform with Innstar Portable Gym.
Here's my Innstar Portable Gym 3.0 Review Score Card
Functionality & Features: 5
Hands down to the features which INNSTAR PORTABLE GYM 3.0 offers. You can literally perform over one hundred exercises with this little monster with ease and flexibility.
Durability: 5
Nothing beats innstar when it comes to durability. One of the most thoughtful designed portable gym set in the market. It's made of natural latex rubber with hybrid fibre coating for the belt. The bench press bar is light yet extremely powerful. Door handles, and anchors which come with this set is quite well made to stand high level of resistance.
Price: 4.5
Innstar portable gym 3.0 is 10x cheaper than it's closest traditional gym equipments with all the  functionality it offers the price you have to pay is penny. Last time I checked there was a additional 25% OFF going on the website with the Free Worldwide Shipping which is a steal!
However, if you're only looking for light workouts and additional training equipment not a whole portable gym you should buy INNSTAR Resistance Bands set which is a perfect add-on to your current workout routine at a cheaper price.
 Portability: 4
The reason why it's called a portable gym is because it's extremely light weight and powerful. As I said earlier  Innstar Portable gym is only 4 kg which makes it perfect for use at home and travel, but don't confuse it's light weight as a compromise for it's ability and durability.
If you travel often or want some warm up equipments to carry at your gym I woulf advice you to choose Innstar Resistance Bands set over Innstar Portable Gym as it weighs less 2 kgs and extremely compatible to carry around.
You can checkout INNSTAR PORTABLE GYM 3.0 here:
INNSTAR PORTABLE GYM 3.0 REVIEWS BY CUSTOMERS
" We are slowly building our home gym and this is a perfect addition to our resistance band routine. I think the price is right, considering how overpriced workout equipment is nowadays. It feels sturdy and it has a little weight to it, which is a plus. "
" Love this bar. It's sturdy and its foam grips make it comfortable to grip. I use for specific routines, mostly for my lats, and it works both with resistance bands as well as with a machine I sue for rows. It's also affordable. "
" As a lifelong weightlifter who's trying to make due with home workouts, I was pretty skeptical of these, but I decided to give them a try. To say I'm impressed would be an understatement. "
AFFORDABLE INNSTAR RESISTANCE BANDS REVIEW
Innstar recently launched a new series of resistance bands in addition to portable gym, so I decided to include my takes on it in this INNSTAR REVIEW series as many of you might not be looking for a whole portable gym but a comaptible set of bands for warm ups, as a travel companion, or just as an add-on during your gym hours.
Right now innstar offers five different sets of affordable innstar resistance bands based upon resistance levels as follow:
INNSTAR RESISTANCE BANDS SET SPECS
Here's my Affordable  Innstar Resistance Bands Review Score Card
Functionality & Features: 4
You can perform whole body workout with Affordable Innstar resistance bands including lower-body workouts or upper body resistance training. The additional door anchors and handles provide a wide range of options for strength and mobility training. If you're a fan of bench presses you'll miss them with INNSTAR Resistance Bands set until you buy metallic bar accessories. Except that I never came across any regular exercise which cannot be performed with these resistance bands.
Durability: 5
INNSTAR Resistance Bands are made from the same natural latex rubber from which they use for their Flagship portable gym set.  I was glad to find out that innstar didn't make any compromise with the quality even when the bands are significantly cheaper than the portable gym set.
Price: 5
Innstar resistance bands set is "The Best Fitness Equipement" you can buy under $100. For half the price of its portable gym Innstar resistance bands over delivers in terms of value for money.
 Portability: 5
Known for its extreme compatability and portability. These resistance bands weighs less than 2 kgs and can fit your bag-pack. INNSTAR RESISTANCE BANDS are designed to stand extreme workouts sessions and conditions which make them a good choice for travel freaks and gym lovers.
For this part of AFFORDABLE INNSTAR REVIEW, I have tried INNSTAR RESISTANCE BANDS  CAMO BLUE SET for 1 week. This set includes 2 resistance bands with a collective resistance strength of 80LB which is enough for anyone who's looking for some light workout or want to try HIIT training.
The set also includes a well designed pair of Door anchors and Ankle Straps along with the Pull Handle Bars.
However to keep it light weight and perfect for travel the INNSTAR didn't include the metallic bench bars which adds significantly to the overall weight of the kit. If you want oto perform the bench presses make sure to buy these bars as an accessories or consider buying the portable gym set.
You can checkout INNSTAR REISTANCE BANDS here:
The short answer is "YES".
Innstar is legit and one of the best gym equipment brands in the market. 
INNSTAR  has an in-house team of professional fitness experts and designers which do extensive research and trials before designing any of their resistance bands and portable gym sets.  Most of the Innstar products are exclusive and patent protected which make sure its customers have a un-matched experience and there's no compromise with the quality.
Conclusion: Should You Buy Innstar?
You should definitely consider buying innstar if you're looking beyond the conventional and bulky gym equipments. Innstar products are worth buying for anyone who's looking for a versatile workout experience without paying heavy fees  in gym memberships. INNSTAR PORTABLE GYM 3.0 is perfect fit if you're looking for a home gym system.
However, if you're looking for more compatible and travel friendly option INNSTAR RESISTANCE BANDS is a clear winner.
Innstar Bands – Official supplier website.
All about resistance bands – Very Well Fit.
High Intensity Interval Training  -NCBI NLM GOV