WORLD'S NO. 1 PORTABLE GYM
See why 15,000+ people worldwide choose INNSTAR to reach their fitness goals!
Innstar World's No1 fitness bands
Goodbye to Bulky Equipment & Expensive Gym Dues
SHOP OUR INNSTAR BANDS COLLECTIONS
Resistance bands are been all over social media after the pandemic era. In case you are not familiar with resistance bands, these are similar to elastic bands but equipped with a plastic section for the gripping of hands and legs.  You can loop them around your legs or arms, for example, which create more tension while you are working out. This tension helps to engage more muscles which automatically builds strengths.
In recent years especially in or after the pandemic resistance bands become popular way of creating muscular body shape at home. By resistance bands you can get the benefits of extra strength without need to spend hours to the gym. These can easily use at home and don't need much space and cheaper also. These are cheap in price that is also a reason for popularity if these bands.
CHOOSE FROM A WIDE RANGE OF WORKOUTS
Reliable and High Qualty Product

At our Innstar resistance bands collection you will a variety of bands which will benefits in your daily exercise routine. We are thriving the market for more than 10 years. Our products are beneficial to the customers that customers are enjoying doing exercise at the home. People are not tiring out doing exercise because of the product that they are using. You can check also our review section, how customer is delighted with our products.
Our Innstar portable gym 3.0 system is use full for whole body workout. You can perform more than 100 exercise with this system, this basically helps in toning your biceps, triceps, shoulders, legs, hips, back and chest in minutes.
INNSTAR PORTABLE GYM 3.0 SYSTEM
Our goal is to set you up for success. You'll receive a workout manual with INNSTAR PORTABLE GYM 3.0, to build momentum and stay motivated to reach your goals.
Follow our Free workout guide for hundreds of new exercise ideas, accessories tutorials, and keep a track of your growth while challenging your limits.
Innstar resistance bands offers to replace the need for traditional for bulky gym machines for toning your muscles and building more strength to your body. It is designed to develop the oblique, abdominals and deeper core muscles responsible for pelvic stability, lumbar spine stabilization. You can also perform various exercise like: mountain climber, lying leg raise, bicycle crunch, bridge thrust, and horizontal scissors with innstar resistance bands.
Our Innstar pedal pull and chest expander is a perfect home solution for home workouts for training your chest, shoulder and arms. It is made of natural latex tube, high intensity nylon belt, and eco-friendly to preventing hand losing grip and hold off the expander band. Basically it helps in building chest and legs muscles.
INNSTAR RESISTANCE BANDS SETS
Don't just take our word for it, See
"WHAT OUR CUSTOMERS ARE SAYING!"
Research shows that training done through the resistance bands is also similar to the training done with dumbbells or weight machines in the gym.  Resistance bands used to increase stabilizer muscles to a greater extent. You can reach the maximum resistance when the band is extended as far as it can go. You can also easily add/ decrease more weights. So while the strength gains doing exercises with the resistance bands are similar to the conventional methods of training at the gym. This is the efficient way of building muscle and strength from resistance bands.
" Great product! Definitely underrated. The amount of workouts that can be utilized from the bar and bands are endless! Very satisfied "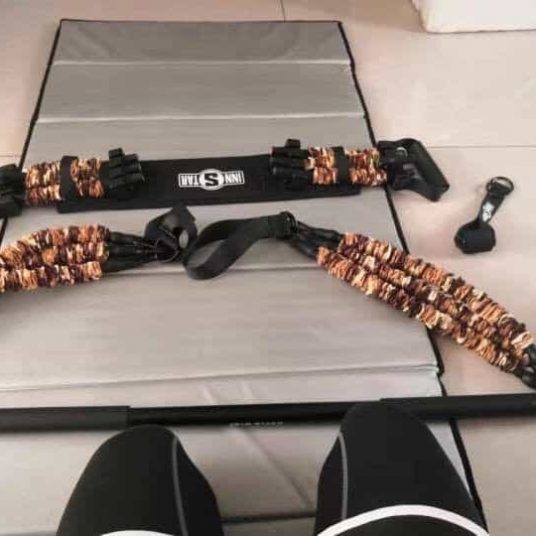 " As a lifelong weightlifter who's trying to make due with home workouts, I was pretty skeptical of these, but I decided to give them a try. "
" My husband bought this for deployment, and has loved it. And i am also looking for my training because these are best in quality and affordable. "
" We are slowly building our home gym and this is a perfect addition to our resistance band routine. It feels sturdy and it has a little weight to it, which is a plus. "
" Quick, easy to use, convenient, portable. I think the price is right, considering how overpriced workout equipment is nowadays. These are very confortable while working out. "
" Love this bar. It's sturdy and the foam grips make it comfortable to grip. I use it for specific routines, mostly for my lats, and it works both with resistance bands with a machine. "