INNSTAR Resistance Bands Set offers 360 degree of extensive workout to your whole body!
INNSTAR resistance bands set replaces the need for traditional bulky gym machines for toning your muscles and building strength.
Our bands are designed to help you reach your fitness goals and train every part of your body with absolutely zero risks of injuries which are otherwise common with conventional machines.
INNSTAR RESISTANCE BANDS SET (140LB) includes:
Four resistance bands with 1×60lb,1×45lb,1×35lb each.
1 x Door Anchors.
1 x Multi-Function Strap.
2 x Handles.
2 x Ankle Straps.
Resistance band exercises you'll able to perform with INNSTAR
Perform weighted push-ups for explosive chest exercises. You can choose from a wide range of resistance levels to suit your workout needs.
Choose from a wide range of chest exercises like Floor Press, Crossover Flye, Flye Staggered Stance, Incline Press, Push-Up, Straight Arm Pulldown, Band Row.
You can also perform chest press with our door anchors which are included in this portable gym equipment set.
Innstar Resistance Band is designed to develop the abdominals, obliques, and deeper core muscles responsible for pelvic stability, lumbar spine stabilization, and force generation during dynamic movements.
You can perform Lying Leg Raise, Bicycle Crunch, Bridge Thrust, Horizontal Scissors, Mountain Climber, Deadlift, Oblique Crunch with Innstar resistance bands set.
Transform your lower body with leg extensions. They will help you form powerful quadriceps. Just insert our pull bars with your resistance bands and get started.
Apart from general stretches, you can include runner extensions, side-lying kicks, monster walks, and squat jacks for a complete leg workout with your innstar.
Thinking about toning up your arms or increasing the muscle size?
Train your biceps and triceps with our bands. You can perform a wide range of arm workouts with the required flexibility and resistance levels.
Include Bicep curls, Triceps Kickback, Forward Raise, Lateral Raise, Lat Pull, Upright Row, Shoulder Press in your workout routine with innstar bands.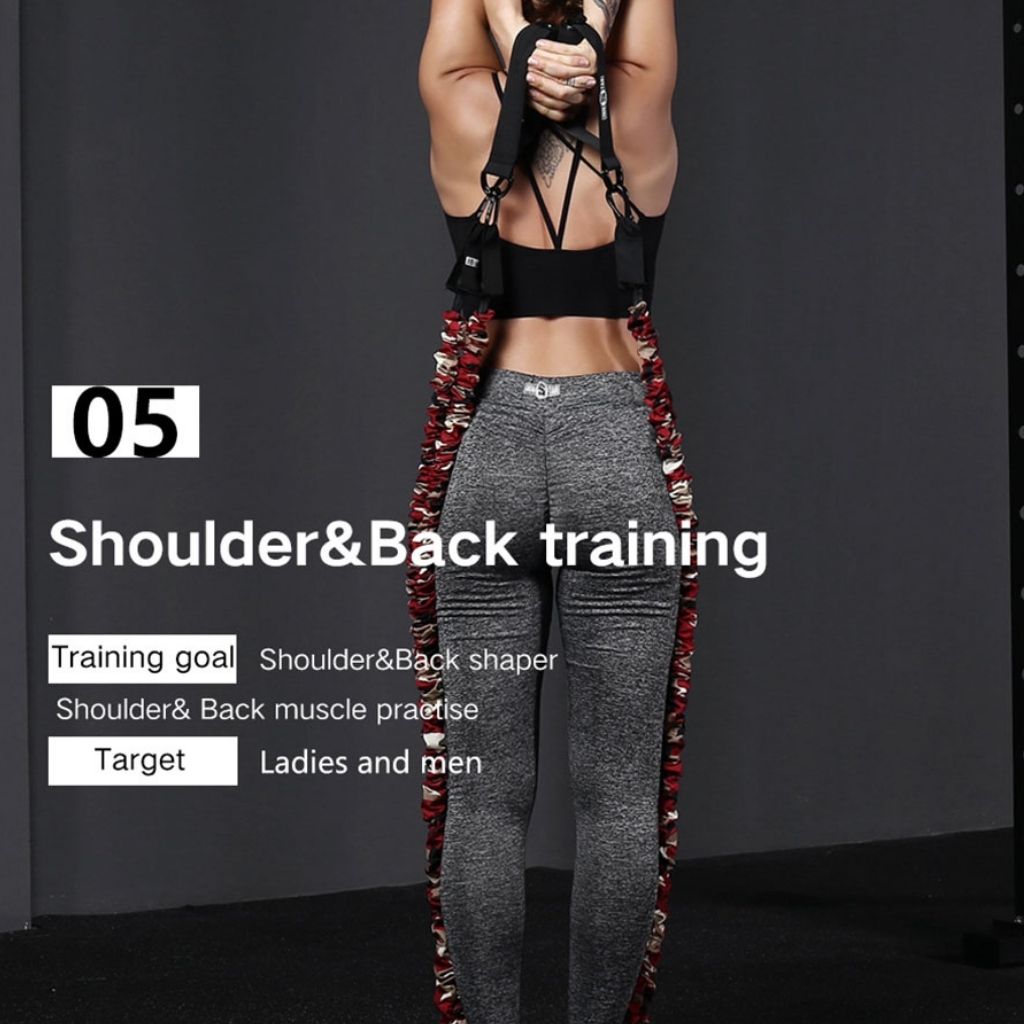 Innstar allows you to do exercises like the bent-over fly. With it, watch your shoulders grow larger!
Innstar's plug-and-play band resistances make the whole workout fun by allowing you to gradually increase the resistance weight and challenge your limits.
The seated row is a great exercise to train all your back muscles. Do it at home with the INNSTAR Resistance Bands set without buying an expensive and bulky machine.
Door anchors and pull handles that come with our portable gym kit make it possible for you to perform several back exercises hassle-free.
Home, Outdoor, Office, Gym? No issues. Wherever you are, you can start training anywhere.
With the INNSTAR resistance band set, you don't have to worry about those heavy and bulky conventional gym types of equipment.
No more excuses for skipping your workout routine. INNSTAR resistance bands are handy and you can get to work anywhere. Stay Fit, Stay Healthy. 
Try these workouts with INNSTAR Resistance Bands
Our INNSTAR Resistance  Bands will help you strengthen and tone your entire body from the home. Easy to use & incredibly versatile, feel stronger in as little as 10 minutes a day. Perfect for stretching, rehabilitation, traveling, and full-body home workouts. 
FREQUENTLY ASKED QUESTIONS
What's included in this set?
This INNSTAR Resistance Bands set includes:
Three resistance bands with  3 resistance levels of 1×60lb,1×45lb,1×35lb each.
1 x Door Anchors.
1 x Multi-Function Strap.
2 x Handles.
2 x Ankle Straps.
Do you offer any guarantee?
Yes, You're protected with INNSTAR 14 Day Money Back Guarantee. We care about our customers and have a no-questions policy if you're not satisfied with your order.
Is there any hidden cost except what's mentioned?
No, INNSTAR offers FREE Worldwide Shipping and the price is inclusive of all the fees and taxes.
Moreover, we have warehouses worldwide and ship your order from the nearest location to save any additional custom fees for you.
How much time it will take to ship my order?
We offer FREE EXPRESS SHIPPING of your order worldwide irrespective of your order value.
Order Processing Time: 2-3 days.
Order Shipping Time: 6-8 days.
All of our orders are shipped from our warehouses in USA, EUROPE, AND CHINA to offer you custom-free and fast delivery.
Innstar is 100% genuine and one of the most trusted brands portable gym system.
Innstar has more than 15,000 customers worldwide, and unlike other competitors, all of the equipment designs are original and patent protected.
Can I upgrade it in future?
Yes, our resistance bands come with portable and detachable resistance tubes which can be used for a wide range of resistance levels.
You can upgrade your resistance band set with additional accessories according to your requirements.
CERTIFICATE OF AUTHENTICITY
Our products patented with European standards and those of the United States of America.
Only logged in customers who have purchased this product may leave a review.